COAGULATIONS, HBO! 'TRUE BLOOD' IS AS BLOODY GOOD AS EVER by David Bianculli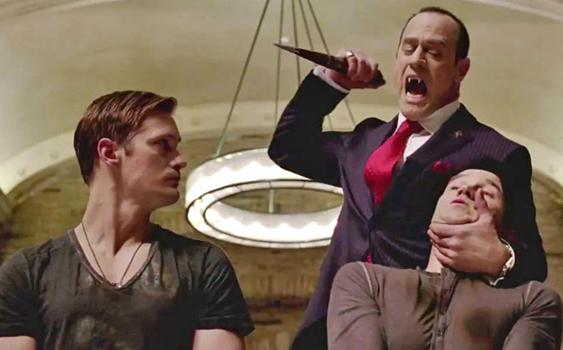 HBO's True Blood returns for Season 5 Sunday, with an opener that travels at the summer show's usual speed: fifth gear.
If Alan Ball's supernatural action series were a race car, it'd be hitting each and every curve just at the point short of spinout. Each hour — and I've previewed this season's first four — packs more action and twists than, say, a season of AMC's The Killing. And somehow, despite all that speed and all those twists and turns, it never loses control.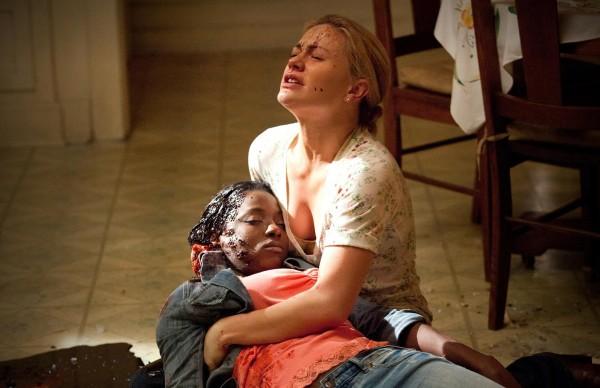 True Blood, returning Sunday night at 9 p.m. ET, has taken the Sookie Stackhouse novels by Charlaine Harris and turned the story of this Southern bayou backwater into a blood-steeped, emotionally intense, grand guignol dark comedy — a Sweeney Todd without music. Though the artistic level and aspirations here are less grand, they're just as much fun, and the cast is a large, wonderful part of it.
Last summer, when we left True Blood, Sookie (Anna Paquin, above at right) had been attacked by a jealous female werewolf, who had come at Sookie with shotgun aimed high. Sookie blew her assailant's head off, but not before Sookie's best friend, Tara (Rutina Wesley, above), took a bullet. Meanwhile, Sookie's two rejected vampire lovers, Bill (Stephen Moyer) and Eric (Alexander Skarsgard) were captured and carted away, while Sookie's brother, Jason (Ryan Kwanten), went straight from a sexual encounter with teen vamp Jessica (Deborah Ann Woll, below left) to an unexpected encounter with Steve Newlin (Michael McMillian) — former vampire-hating evangelist, apparently turned vampire himself.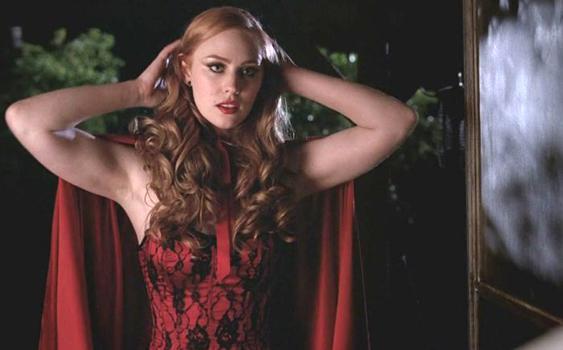 To its credit, Season 5 begins exactly where Season 4 ended. Before the opening credits roll, you'll learn what happened to Tara — and soon enough, all other questions will be answered as well.
The return to the action sets up Season 5 on a new path, with new configurations of characters. Sookie, who has spent most of True Bloodvamping with one vamp or another, is determined to go it alone — though Alcide (Joe Manganiello), the werewolf, is still around. Bill and Eric, though, have to rely on one another to survive, like an undead version of The Defiant Ones, as they become both captives and pawns of the all-powerful Vampire Authority.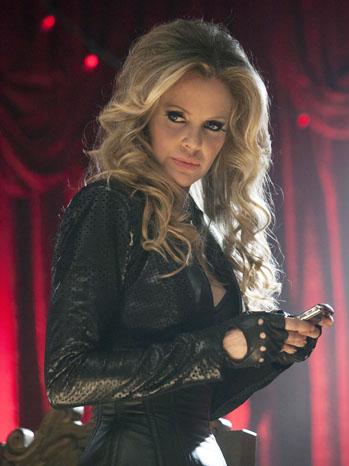 Also prominent this year is the political, and religious, showdown between two warring vampire factions: the Sanguinistas (fundamentalists who see humans merely as walking food) and the Authority (who see themselves as descended from humans, and seek peaceful co-existence).
One prominent new character introduced is the Guardian of the Authority, played by Christopher Meloni (above, with knife) with even more cold-blooded menace than he displayed each week on HBO's Oz. This insiders' peek into vampire power allows Ball and the other writers to make plenty of not-too-subtle points about politics and tolerance — while also taking enough creative license to suggest that the vampires have their own bible, and that at least one familiar biblical characters is still around. And sporting fangs.
Irreverent? Yes. But in this political year, certainly not irrelevant.
And, as always, True Blood arrives just in time to enliven the TV summer.
David Bianculli has been a TV critic since 1975, including a 14-year stint at the New York Daily News, and sees no reason to stop now. Currently, he's TV critic for NPR's Fresh Air with Terry Gross, and is an occasional substitute host for that show. He also teaches TV and film history at New Jersey's Rowan University, and his most recent book, 2009's Dangerously Funny: The Uncensored Story of 'The Smothers Brothers Comedy Hour, has recently been purchased for film rights. He's currently at work on another.
Post a comment:
Your comments will be moderated before being displayed above.